THE INTERNET, MOBILE PHONES AND NOT THE LEAST FACEBOOK ARE TERRIFIC / TERRIFYING INSPIRATIONS FOR C E N T R I F U G A L I T Y, THAT IS, FOR LEAVING THE HERE AND NOW FOR THE MORE EXITING THERE AND THEN.
FACEBOOK IS VERY MUCH PART OF OUR LIVES, BUT I NEVER SAW A MANUAL FOR HOW TO USE IT WISELY, IN A CENTRIPETAL WAY. HERE ARE SOME TIPS FOR STAYING "AT HOME" IN SPITE OF ATTEMPTS TO COAX US INTO EMIGRATING TO OUTERNITY.
---
UPDATE/ ADDENDUM September 26 2017–
Here's a new Dogma rule. I have treated notifications like wine for some weeks and can report that it does small wonders for my peace of mind.
§ Don´t read Notifications, at least not often
Why not? Because at least for me, this is possibly the most distracting attention-grabbing Facebook element of them all.
Sure, sometimes notifications concern something important, but usually they can wait. Let them age like wine!
---
First, let´s not be afraid of the word "dogma". Think of Dogma 95 of filmmaker Lars von Trier, basically just some self-imposed rules. Dogma can mean positive limitations; by restricting ourselves we can free ourselves. (More interesting dogma rules at the end of this article.)
Before we get down to the nitty-gritty, let´s establish two very basic ideas in relation to Facebook, two mottoes.
Motto 1:  "All things are poisons, for there is nothing without poisonous qualities. It is only the dose which makes a thing poison." (Paracelsus)
[Even pure water can poison you if you overdose and drink too much of it.]
Motto 2: "If you consume attention, add value." (Tim Ferriss)
THE BACKGROUND
I used Facebook for about 5 years, then abandoned ship.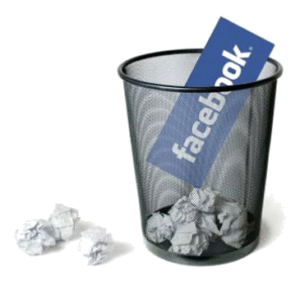 After a year-long break I am back, and I intend to do it better this time. Also differently, since I am not so much present there as represent. That might not be your case, but you might still benefit from my Facebook dogma (or not).
Keep in mind that these are rules written for myself. When I use the word "you" I am talking to myself. I actually mean me. (Which in your case would mean you, but… oh never mind.)
Here are my dogma rules in no particular order.
DOGMA16 [2016]
§ Resist the temptation to tell trivial details about your life

Remember Tim Ferriss: If you consume attention, add value. That should be framed and put on the wall. If you don´t follow this rule you might turn into a beggar or attention-thief.
Or like-whore. That´s a harsh word for someone who is always looking for ways to get "likes". A better term (still harsh but a least a verb) is like-whoring: an activity that many of us can slide into at weak moments when feeling empty. In those moments a single "like" from a FB-friend you haven´t even met can make you smile.
§ Don´t join discussions that you sense will go nowhere
However fun they may seem, don´t join discussions that you can predict will be long-winded, agitated and depleting. Just say no to exchange of opinions that are really exchange of verbal blows. Not worth it. People usually hold on to their convictions anyway and afterwards you will feel not enriched but drained.


There is a juicy old quote about this. "If you wrestle with a turd you will be beshit whether you fall over or under." I am not calling anybody "turd" but the logic stands; to be a winner is sometimes just as bad as being a loser.
§ Watch out for the malady "comment-itis"
That´s when you feel that you MUST comment on something. Avoidance is the best cure; don´t even start commenting. And of course it helps if you don´t stand in the way of temptation: read fewer posts.
§ Differentiate between what concerns you and what doesn´t
FB is terrific at misleading and confusing us on this point, making trivial and for me absolutely non-important things and links seem urgent in some perverse way.
Pretentious people are tiresome. Have just as little patience with news and buzz pretending to be important.
§ Don´t over-overganize your FB-friends
In the past I had something like 15 friends categories, and you can imagine what I became: a FAFA (Facebook Friend Administrator). Three is just enough.
So many communication tools are asking (forcing) us to be administratiors (administrator + traitor of time). The time boat is leaking.
§ Recognize withdrawal symptoms
If you get all nervous and fidgety if you have been away from Facebook for two days (or hours) you have your diagnosis. Ask yourself if you want FB to be that important in your life.
Resist the temptation to assemble, maintain and build your self-image and feeling of self-worth through FB. Do that elsewhere. Throw away the crutch and don´t forget that you can walk. (At least you could, before you joined FB.)
§ Don´t make FB your only channel of communication
Educate your friends if necessary and tell them that "No, I am not available on FB all the time. Mail me or send an SMS. Or be radical: Phone me up!"
If we allow FB to become our only channel of communication we will feel forced to log in. The remote control is used against us.
§ Don´t be afraid to unfriend tiresome people
Life is too short for being irritated at people that you don´t have to have nearby. (Some you have.) Decide on the number of allowed blunders, then cut the cord. On the other hand, if you stay away from discussions you might never reach that stage of irritation.
§ Don´t spy
FB is in at least 2 ways a spy tool.
1) The sixth richest person on the planet (that´s Mark Zuckerberg) and his cohorts gather information about you and your private life, your taste in books, movies, music, friends, your life history, telephone number, address and marital status. They don´t ask about sexuality yet, but that might come. This is a real good reason to lie about yourself.
2) FB members spy on each other.
If you need information about someone and don´t want to ask them directly, go and check their page. But if you make a habit of this you might get depressed and lose valuable time.
Life is too short for spying on others. Spy on yourself instead, find out things about yourself that you didn´t know.
§ Don´t start and end the day with Facebook

That´s like going out into a windy field, opening your mouth and wondering what will end up there. Remember, sometimes an open mind is as bad as an open zipper. Sanctify the Alpha and Omega of your day.
§ Log and run!
Learn a lesson from traffic hooligans: Don´t stay around.
Log in, do your thing (whatever that is) and log out. If you just hang about like a leaf in the wind you will be tempted: you will read, comment, engage, debate, argue, get mad, waste time. This can be fun and even therapeutic for a short while, but remember Paracelsus.
§ Ask yourself, would I post this if I KNEW for sure that I would get zero likes? If "yes", post!
No comment.
§ Don´t make others jealous
I had a FB-friend who always posted statuses from the top of the world. He was sitting on a mountain top (with good coverage, it seems), with the best wine in the world, and the most beautiful woman alive. Always variations on this theme.
Even if that was true, what´s the point of telling the world about it? If you really care about your fellow man, write "One more month (year) down and out in the gutter…". That will remind your friends of how good their life really is. They can quote Oscar Wilde and feel smart, send you love and comfort and feel magnanimous. But they will not feel jealous/lousy.
Statistics (here, here,) indicate that Facebook makes people depressed when they compare their real lives, warts and farts and all, with the possibly beautified and doctored Seen through the FB-lens-lives of their Facebook friends.
Don´t be a part of this process.

Finally, remember that you need to be something of a snake charmer with Facebook. FB is like a snake, use it well and you will make good medicine from its venom. Use it less well and it will hypnotize, paralyze and devour you. Dosage is all important (Motto 2).
IMAGINING FACEBOOK
I´ve been thinking of a good way to visualize the dynamics of Facebook. This is what I came up with.
Imagine a long corridor (the longer the more FB- connections you have). Along this corridor there is one room each for your FB friends. Each room has a door, you can go there and take a look inside, perhaps chat with the person sitting there.
So far so good.
Now imagine that nobody stays in their room but hang out in the corridor. What a messy and noisy crowding that will be with 3000 or even 300 people. You can barely walk or move or hear your own thoughts.
But… if that is the case, what are YOU doing in the corridor? Why aren´t you in your room?
But where is my room, you ask.
The way I see it, my room (and home) is my name. What Facebook calls HOME is the lava stream. "Notifications" shows a number indicating things you have to take care of. The lower the number the better, if you ask me.

I wish you happy and harmonious Facebooking.

I promised some more dogma rules. Here are the remarkable rules of warfare of Nietzsche. The war spoken of is mental, intellectual war, of course, so this is of value for writers and philosophers.
First: I only attack causes that are victorious; I may even wait until they become victorious.
Second: I only attack causes against which I would not find allies, so that I stand alone – so that I compromise myself alone. – I have never taken a step publicly that did not compromise me: that is my criterion for doing right.
Third: I never attack persons; I merely avail myself of the person as of a strong magnifying glass that allows one to make visible a general but creeping and elusive calamity. Thus I attacked David Strauss – more precisely, the success of a senile book against the 'cultured' people of Germany: I caught this culture in the act.
Thus I attacked Wagner – more precisely, the falseness, the half-couth instincts of our 'culture' which mistakes the subtle for the rich, and the late for the great.
Fourth: I only attack things when every personal quarrel is excluded, when any background of bad experiences is lacking. On the contrary, attack is in my case a proof of good will, sometimes even of gratitude.